Since Facebook changed its name to Meta, it has become heavily invested in creating a Metaverse for us all to 'live' in. This means an online virtual world where we can work and play together, but can also be at home together even if not physically in the same room.
If this can work in our everyday lives, could this virtual world be adapted for anatomy education? Let's take a walk through the Metaverse, explore new technologies, debate the advantages this could bring to anatomy education and see how Primal Pictures takes advantage of this tech to boost anatomy learning.
What is the Metaverse?
The Metaverse has been envisioned as the future of the internet by many companies, including Facebook. Instead of browsing web pages and clicking links in isolation, we will live inside a shared virtual world. With a 3D avatar representing us, the hope is we will be able to do anything in the Metaverse. This could be hosting work meetings, seeing a concert or enjoying time with friends. However, it will take some years before it is completely built. Although some companies have been edging towards this new world for a while now, it might be some time before it is completely interactive.
How will we access the Metaverse?
There are three main virtual technologies being developed that will help us explore the Metaverse:
Virtual Reality (VR): Fully immerse yourself in digital surroundings by using a PC-connected headset or one of the increasingly popular standalone headsets. (See the Primal VR video below for an example.)
Augmented Reality (AR): Overlay digital features in a real-world environment by either using an app on your phone/tablet or by wearing smart glasses or an AR headset.
Mixed Reality (MR): Blending a combination of AR and VR allows you to experience both the real world and a virtual environment at the same time. This can be either through holographic devices which have translucent glasses so you can see your surroundings through them, or non-translucent devices which fully immerse you in the digital space but have a camera for tracking the real objects in the room.
How can the Metaverse be used in anatomy education?
The teaching of anatomy is essential in medicine, physical therapy, dentistry and other healthcare education. To learn anatomy, students must study the vast variety of different structures and organs in the body and know where everything is located. Using physical models and dissecting cadavers have been the dominant way to learn anatomy for decades. This hands-on experience gives students a greater understanding of how the body works and is an invaluable method of teaching.
However, with the onset of the COVID-19 pandemic, this became near impossible and educators needed to find alternate ways of teaching anatomy. The rise of virtual tech became a valuable alternative.
Studies have shown that virtual reality can be applied in the classroom in a variety of methods:
Virtual anatomy lessons with 3D digital anatomy models
Dissection simulation
Surgical simulation
Patient care simulation
The benefits of virtual technologies in anatomy education
As technology has evolved, immersive learning has moved to the forefront of different areas of teaching, from using a flight simulator to solving virtual conflicts in an office setting. It can also benefit students of anatomy and physiology through:
Better knowledge retention: VR has a 75% learning retention rate, surpassed only by teacher-led learning.
Increased motivation and lesson engagement: Immersive technologies make learning fun and exciting. Students can be more hands-on when learning, rather than sitting still alone with a textbook.
Fewer distractions: Being fully immersed in the technology, including wearing a headset, means students can focus more on the task at hand and be less distracted from the outside world.
Learning through play is a vital part of the human experience and virtual technologies are an excellent source of play. They allow the user to experiment, create, be free to make errors without repercussions, explore rules and understand constraints – leading to better knowledge retention.
Overall, these new methods provide a safe and risk-free learning space that puts students at ease and improves outcomes.
How Primal Pictures embraces virtual tech
Always looking to push boundaries, Primal delivers AR and VR solutions to keep users at the vanguard of anatomy education. As the leading 3D digital anatomy toolkit, Primal is unparalleled in its level of detail and accuracy – and this translates to virtual tech as well. These technologies also increase student engagement as they can be used anywhere – at home or in the classroom.
Primal VR uses a headset to create an interactive and engaging learning environment on another level compared to your typical screen. Its comprehensive and accurate 3D anatomical models, the same ones in our other platforms, have been used by 1,500+ academic and healthcare institutions from around the globe.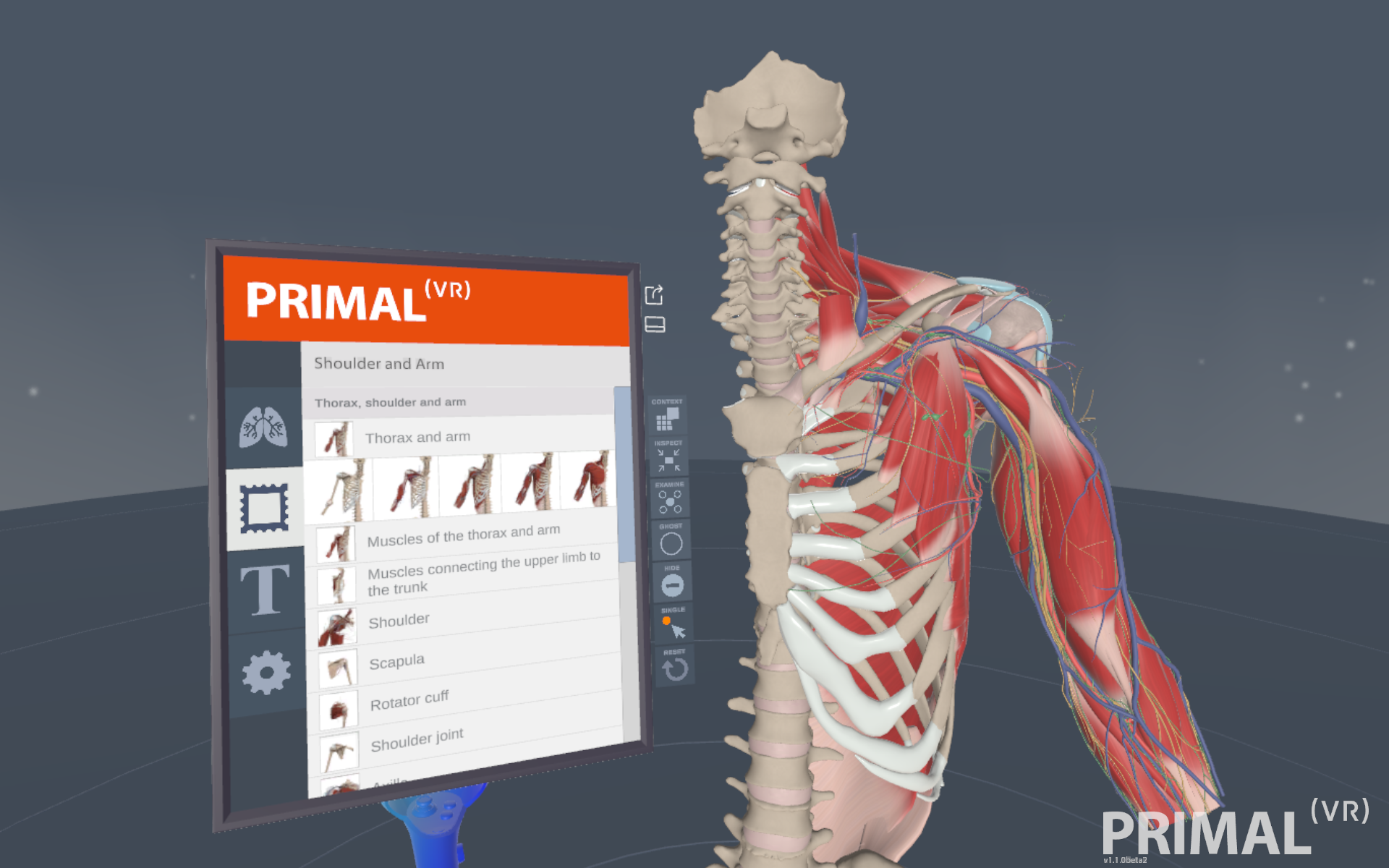 VR is an advanced and effective learning tool as it allows you to fully immerse yourself inside the region you are studying, such as walking through the digestive system and clicking on structures to learn more. One study showed that students who use VR to learn about cardiac anatomy scored 23.9% higher than a control group who studied independently. Primal VR features:
Walk 360 degrees around Primal's 3D models, unrivaled in accuracy and detail.
Select, scale and rotate each structure using your hands.
View anatomy in unique ways such as taking a journey inside the heart or traveling down the pharynx.
Practice dissection in a focused environment, with an audio pronunciation tool to learn names of unfamiliar structures.
Collaborate by sharing the VR experience on computer or large screen.
Available for headsets that are both wired (Oculus Rift, Rift S, HTC Vive) and non-wired (Oculus Quest 1 and 2).
Primal AR is available through Primal's 3D Real-time apps that have an AR mode. It's more accessible than VR as it doesn't need any special equipment and can be easily used on your phone or tablet. It makes AR a cost-effective alternative for learners of anatomy who want a virtual experience without the investment. Features:
View 3D models in multiple orientations in your immediate environment.
Quickly access 3D models to create side-by-side comparisons with real world structures in the lab or at home with textbooks.
Hide or add single or multiple structures to streamline focus.
Read detailed anatomical text for each structure.
Access several pre-made models or build your own by selecting individual structures or groups.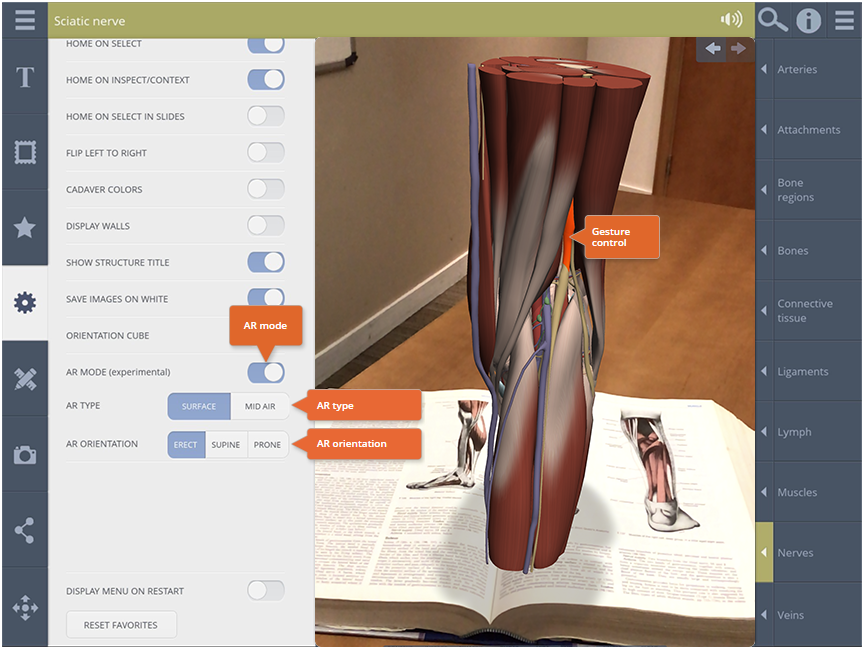 Primal AR is great for practical learning, especially in a collaborative environment as it helps to improve teamwork skills. All students are involved in, and can change, the learning process at the same time.
A wholly immersive Metaverse might be some years away, but in anatomy education the evolution has already begun!
To learn more about Primal VR and AR tools, please fill in the form here and our team will be in touch.